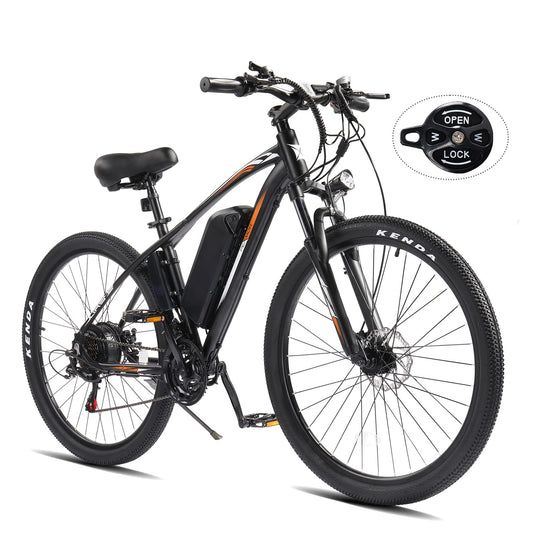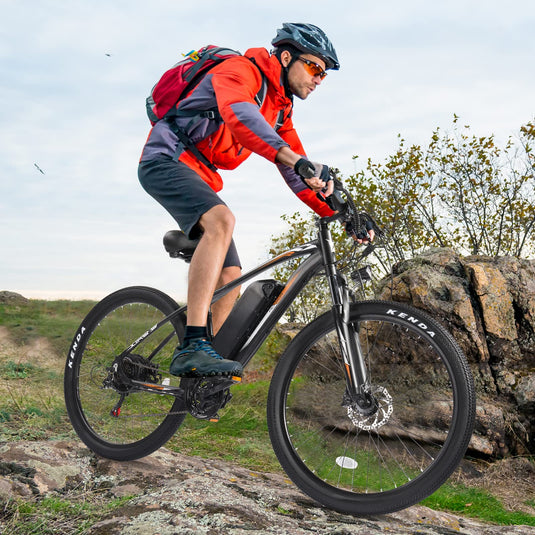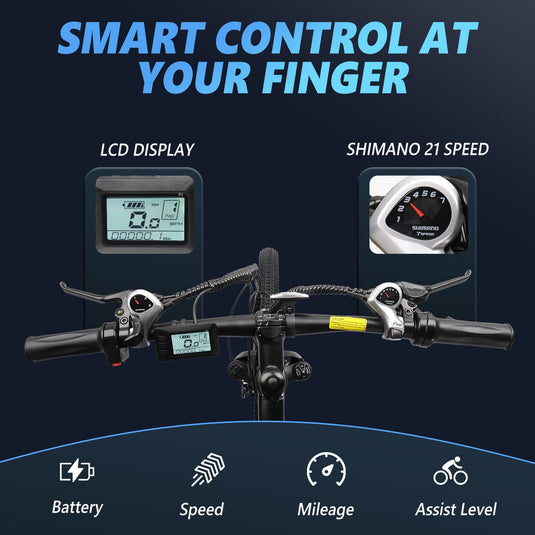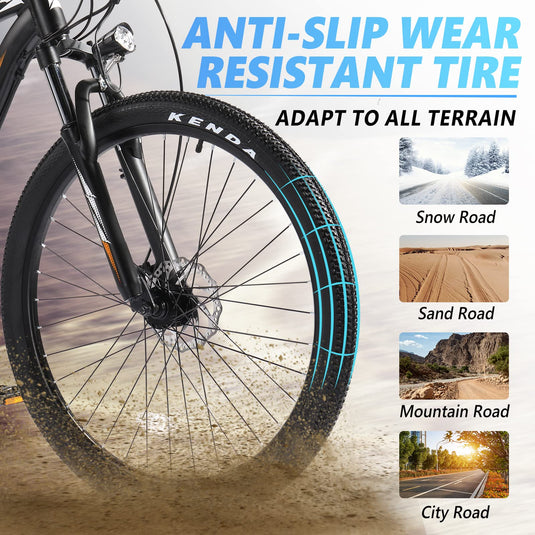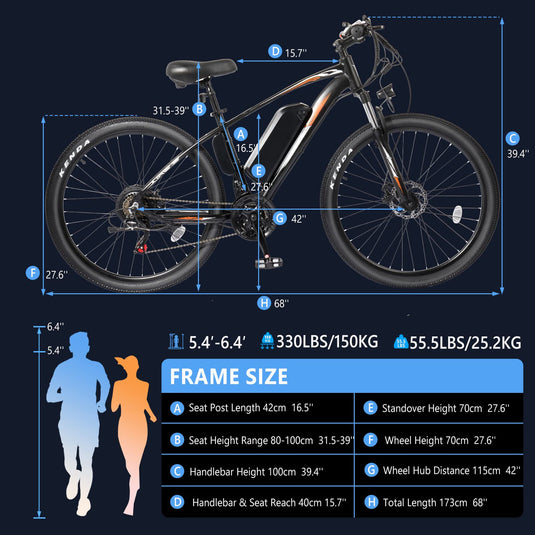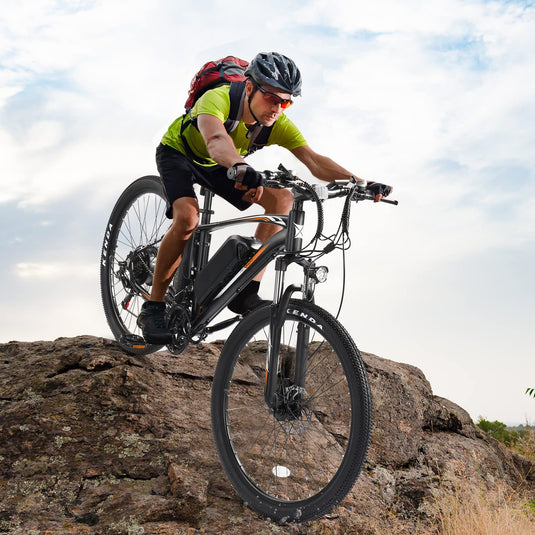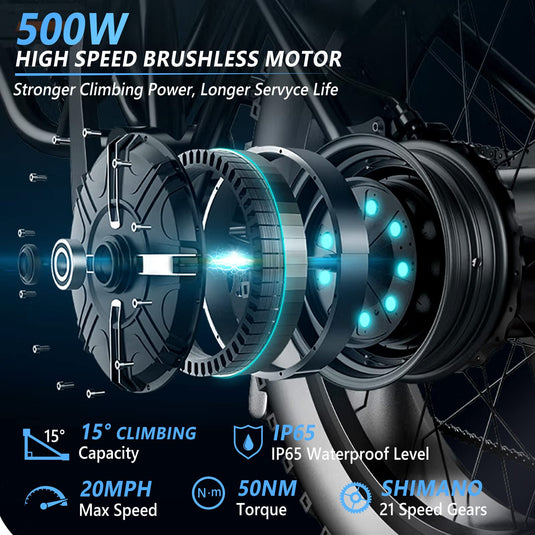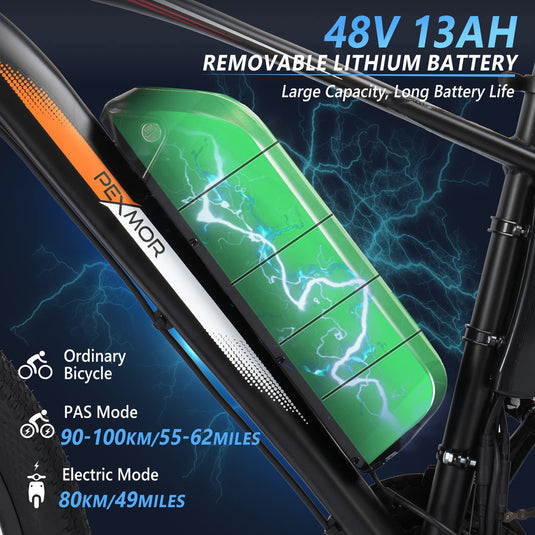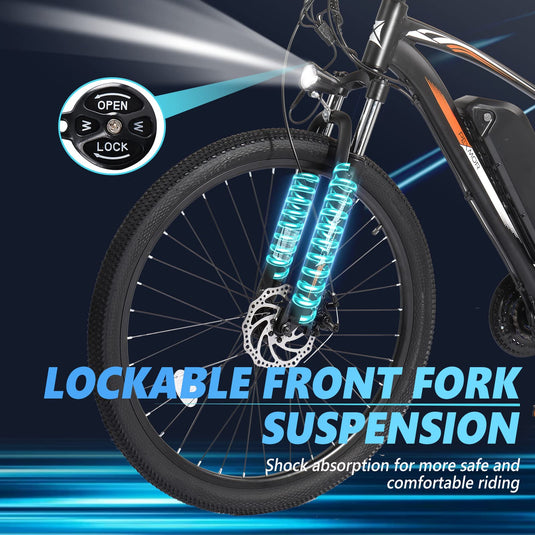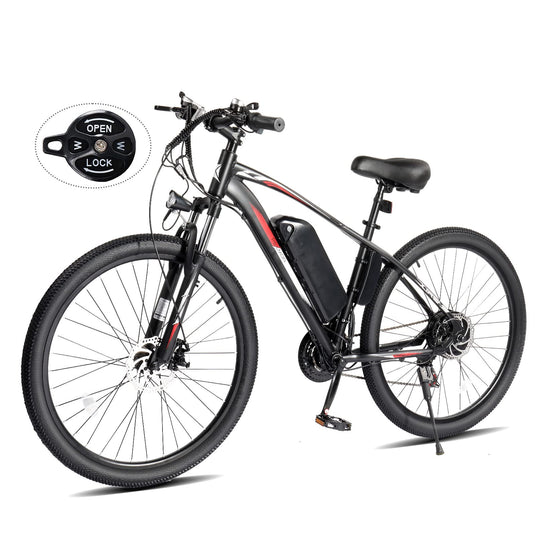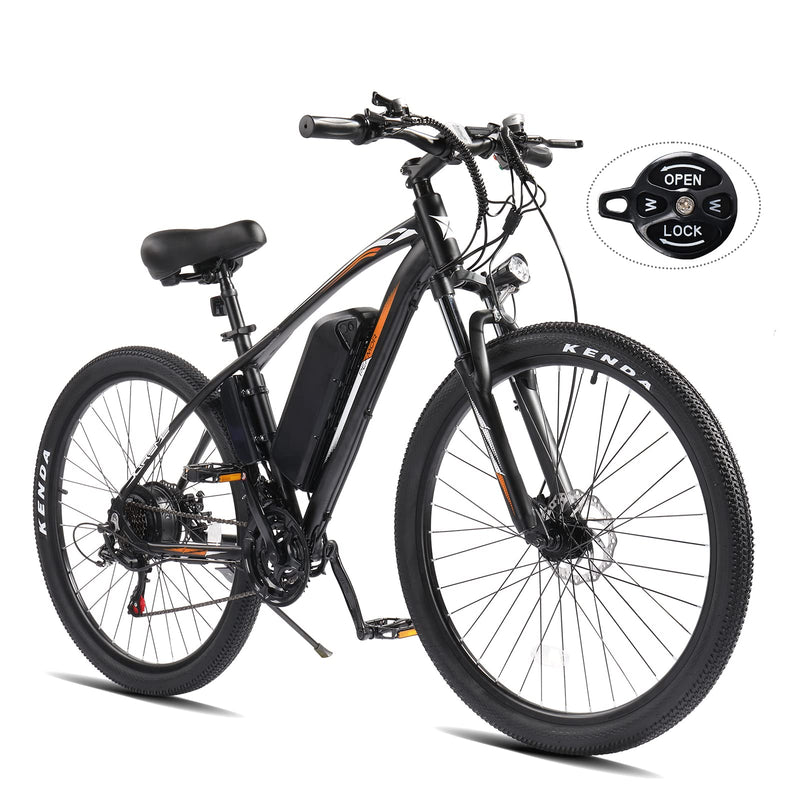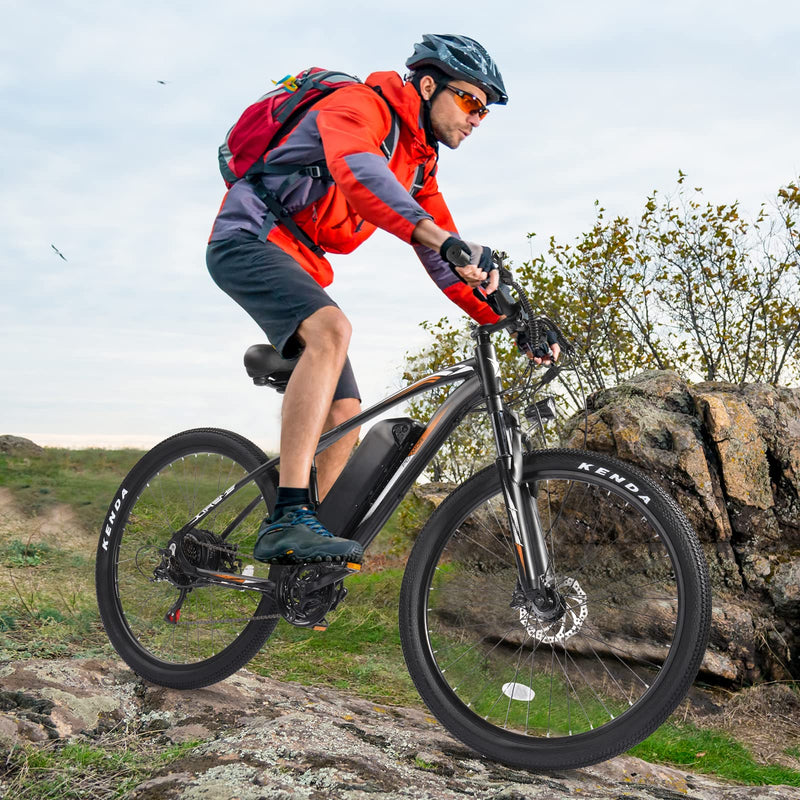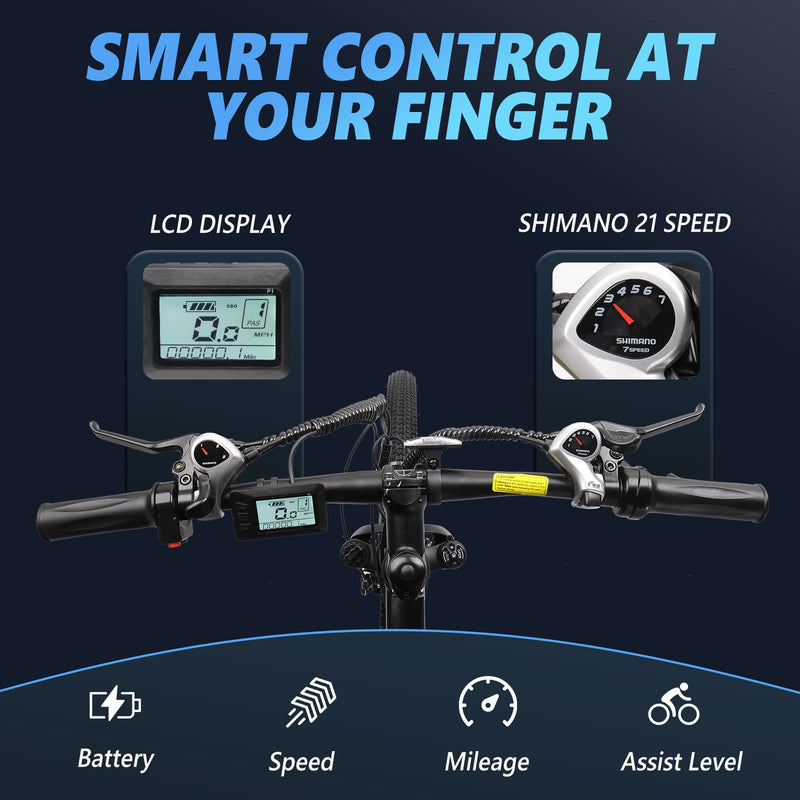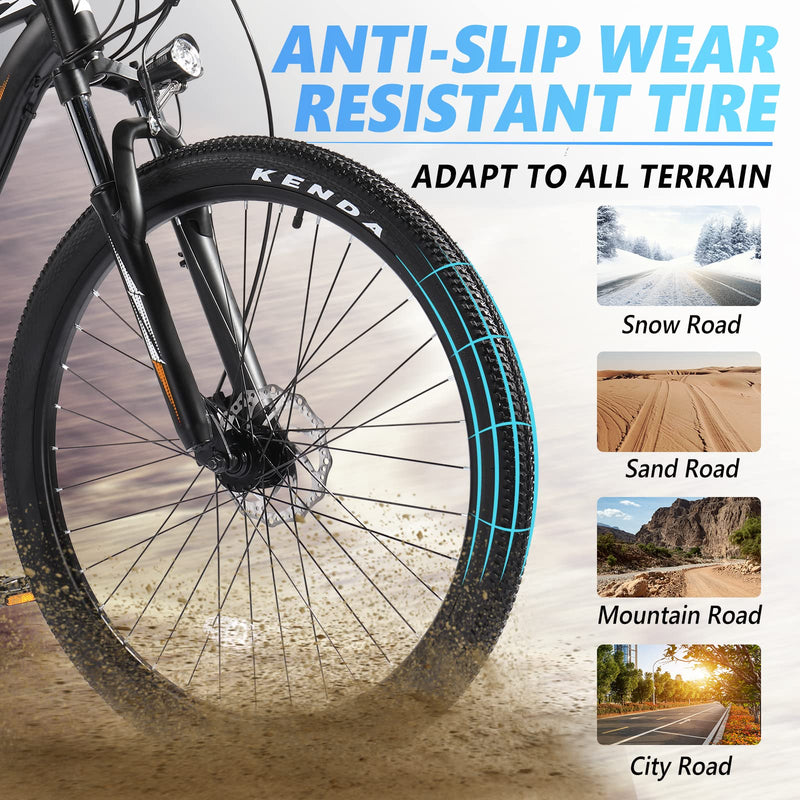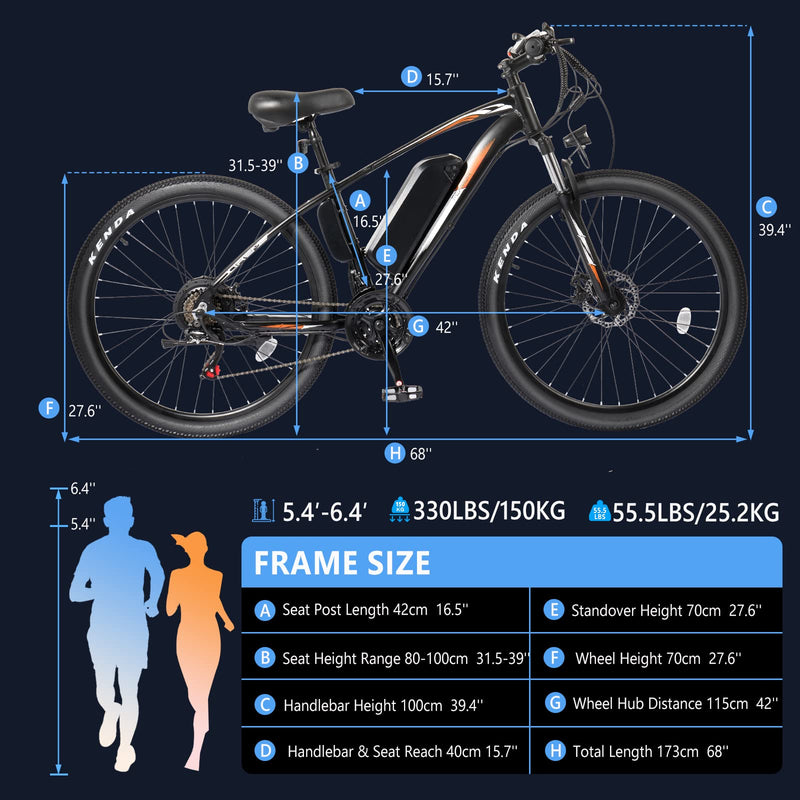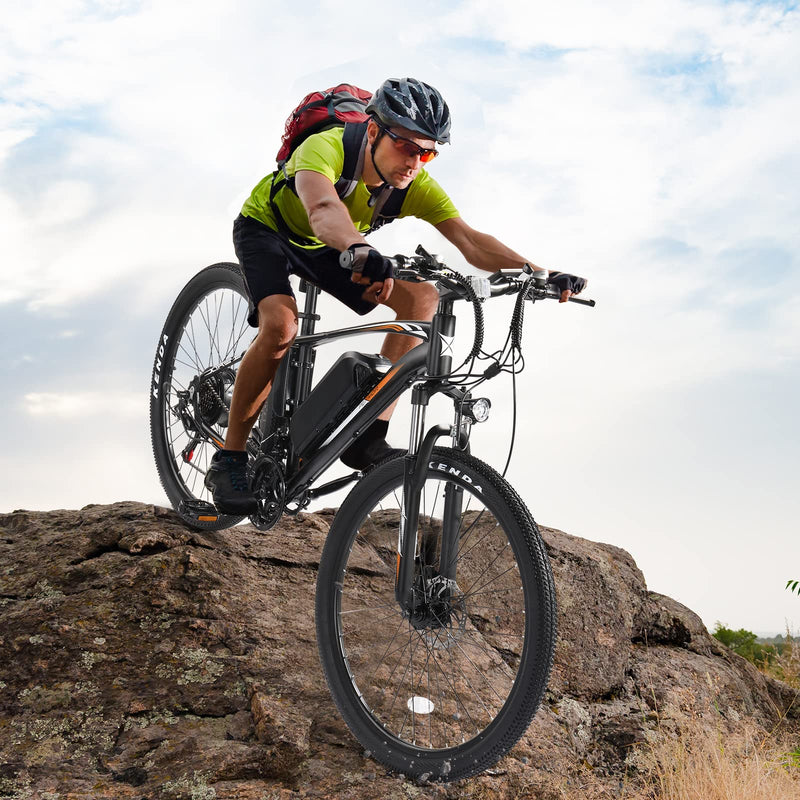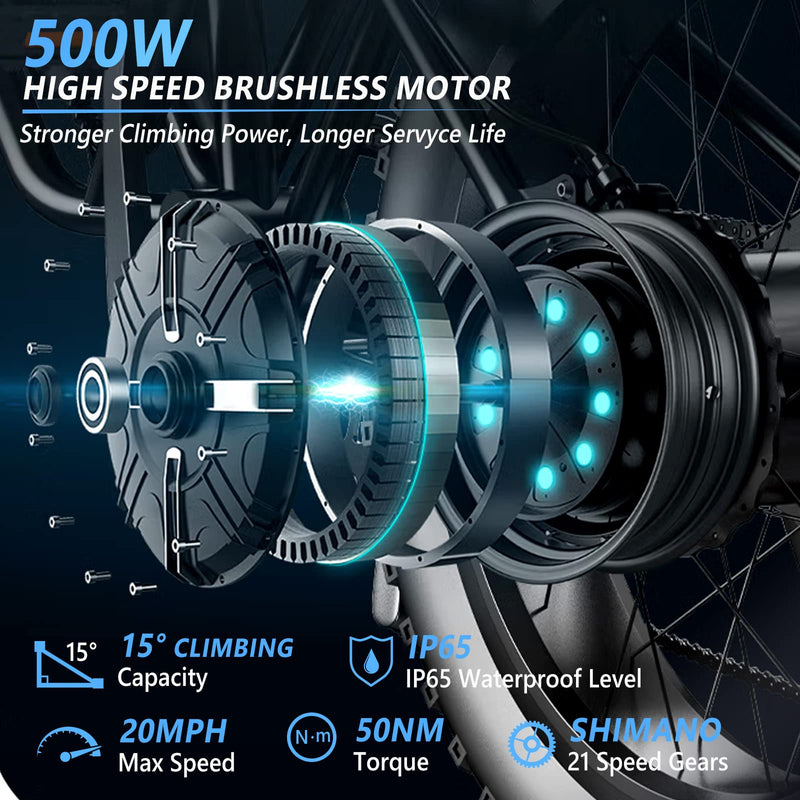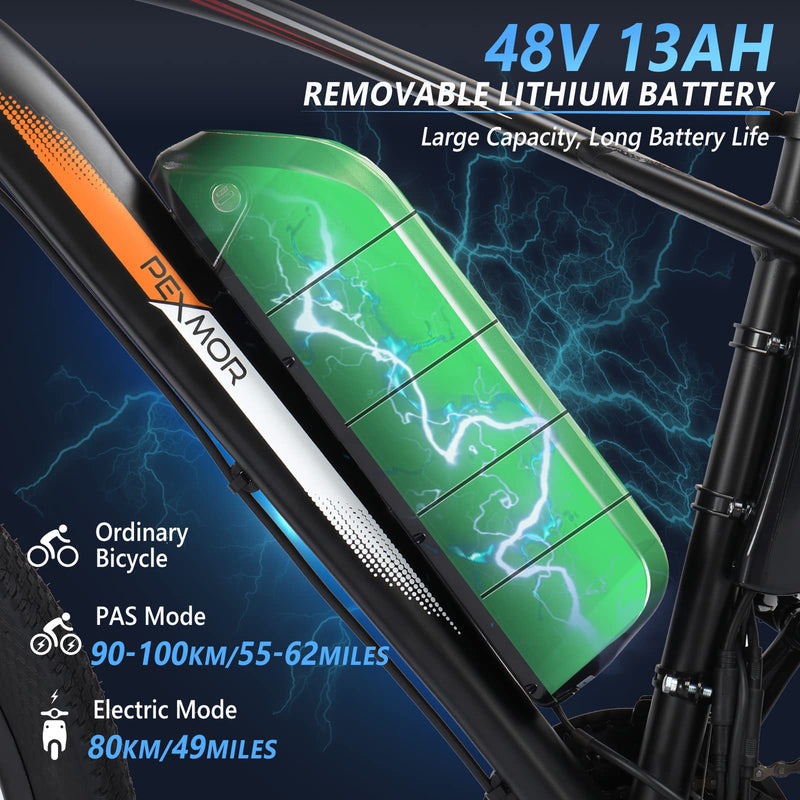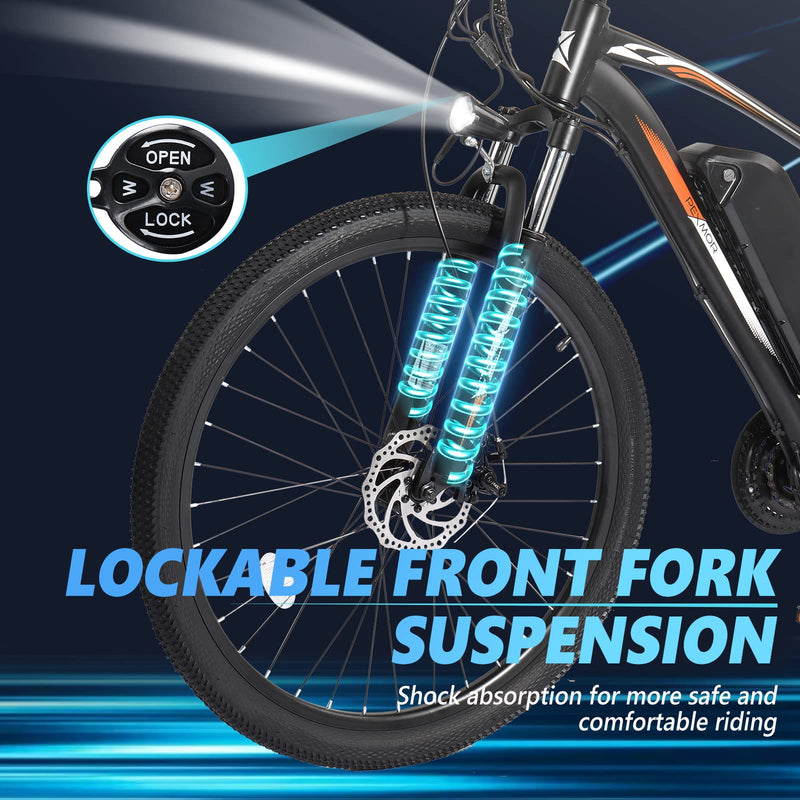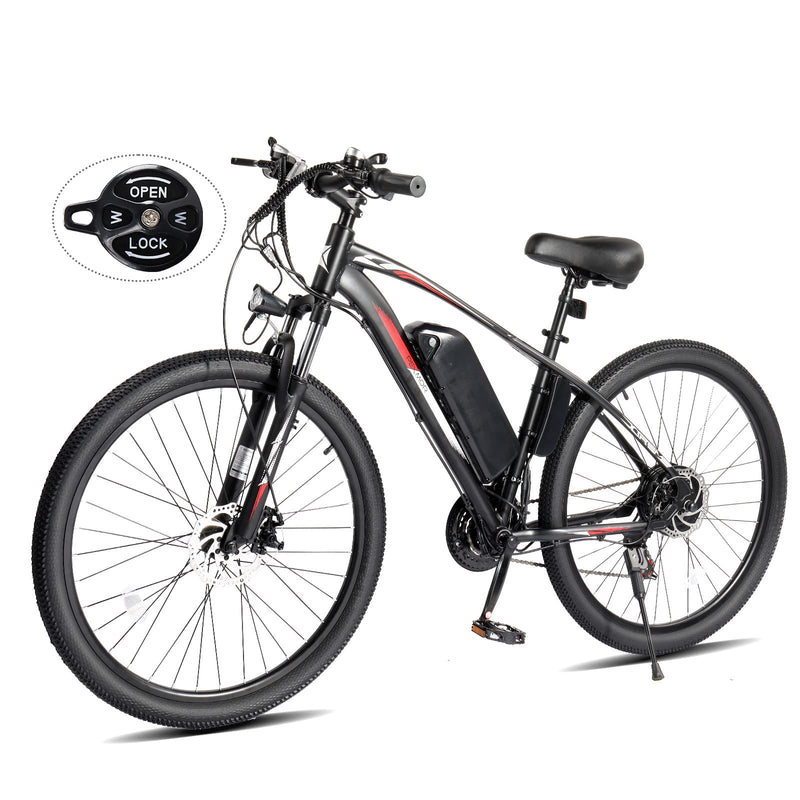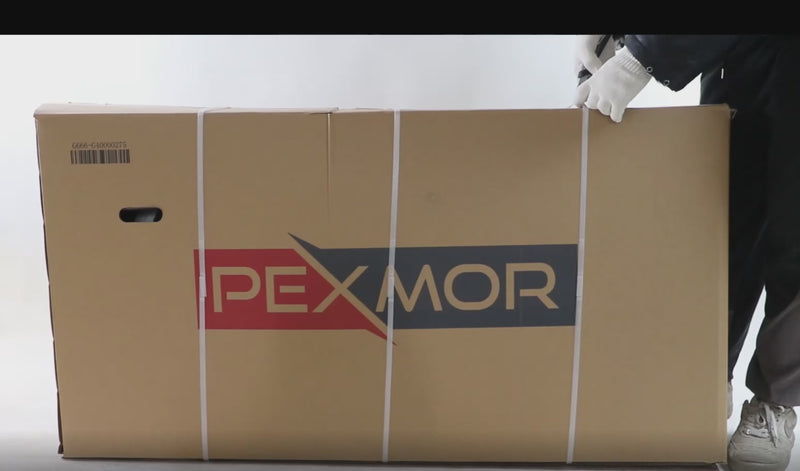 Introduction:
With a powerful motor and long-lasting battery, this tram can meet your daily commuting and mountain cruising needs. 21-stage gear shift and dual disc brakes provide good acceleration and braking ability for safe driving. In addition, the smart LCD design allows you to track the driving speed and remaining current conveniently at any time. Finally, this bike is easy to install and the bike arrives 85% assembled. With detailed instructions and installation tools, you can easily complete the installation in a very short time. The motor, battery and other replaceable major parts come with a one year service so you don't have to worry about using it.
Features:
1. POWERFUL MOTOR & LASTING BATTERY: Powerful 48V 500W high-speed brushless motor with 48V, 10Ah high-capacity battery adds stronger climbing power, the max speed can reach 37km/h (23mph). Per charge, the pure electric mode can travel 36km/22 miles, and the pedal assist can travel up to 65km/40 miles, meeting your daily commuting and mountain cruising needs.
2. 21-SPEED SHIFT & DUAL DISC BRAKES: The Shimano 21-level shift finger shifters convenient to ride uphill, downhill or pure acceleration. The front and rear dual disc brakes provide good braking ability.The fat tires are made of non-slip and explosion-proof materials. The pattern on the surface of the tire is non-slip and wear-resistant, and has strong grip and puncture resistance to ensure safe driving.
3. DURABLE & SHOCK ABSORPTION: Durable double-layer aluminum alloy rims and shock-absorbing frame ensure smooth driving even on rough roads. The thickened shock-absorbing front fork can be locked and adjusted. It can comfortably adapt to various road sections, has a good shock absorption effect, and effectively resists the impact on the body. The max load weight is 265 lbs/120 kg.
4. SMART LCD DISPLAY: Equipped with HD smart meter display, including 5 speed display, battery power display, mileage display. You can have more speed mode choices. You can easily track the driving speed and mileage as well as the remaining power of the battery anytime, so as to avoid running out of power. The plus and minus buttons are used to set the gear, and there are horn buttons and light buttons on the handle to further protect your safety.
5. EASY TO INSTALL & CONSIDERATE SERVICE: The bicycle arrives 85% assembled. With detailed instructions and installation tools, you can easily complete the installation in a short time.With one-year service for the electric motor, battery and other main replaceable parts, you've no worry about using it.
Specification:
Bike Type: Electric Bike, Mountain Bike, Commuting Bike
Age Range (Description): Adult
Wheel Size: 27.5 Inches
Suspension Type: Rear, Front
Special Feature: Digital Display
Number of Speeds: 21
Color: Orange/Red
Frame Material: Aluminum, Carbon Steel
What You Get:
1 x E-Bike Accessory Kit
1 x Charger
Great company sticks to their word
I got the bike delivered and the battery wouldnt charge ,so i emailed and got no response got frustrated and wrote a bad review ,a few days later i was contacted via email and they appoligized that they were having technical issues and asked how they can help me,after trouble shooting the issue we discovered infact it was a bad battery and they without question said they would send me a new one which they did ,as soon as it shipped they sent me a tracking number and before long the new battery arrived ,I charged it over night and tested out the bike the next day,I have a couple of more expensive ebikes but wanted one to just cruse periodically but I have to tell you I love this bike,it goes 23 mph and in pas 4 i can get about 40 miles on a full charge , for a lower priced ebike this one rocks.....Thank you Pexmor for the gret product at a great price and outstanding customer service...
My PEXMOR 27.5 in 500W Ebike
I put it together and everything and was able to ride it, but the PAS system seems to be the same strength, no matter if it is in PAS 1 or PAS 5 (it always appears to be in PAS 5, no matter what PAS level I am on) Is there a way to reset the PAS system. I don't want that much assistance all the time. Thanks for the follow-up! Otherwise the bike seems great!.
Will you please respond to my emails
I recently received a 27.5 bike that is defective and I wrote you right away and never received a response,all I want is the product I paid for that works ,why will you not help a customer who had faith in your company
Missing battery mounting plate and only 18 speed.
Received this bicycle today. There is no mounting plate for the battery, basically making this bike an expensive paperweight.
It was also falsely advertised as a 21 speed, when I ended up receiving an 18 speed (3x6 drivetrain). I am extremely disappointed and I am stuck with a useless bicycle that cannot function.
The shipping also caused damage to the bicycle.
Warranty scenario
My wife and I have decided to purchase two electric bikes. After returning our first option of electric bikes we did a little research and purchased two Pexmor E-bikes. It's been about 4-5 months in the game and we have enjoyed every moment of each trip we have went on. These bikes are 100% better then the original bikes we returned, for our first purchase. I had a couple small setbacks recently and sent a email to the warranty department. This is were the final factor of our purchase is being based upon. I will do a follow up on my warranty experience with Pexmor, thank you.