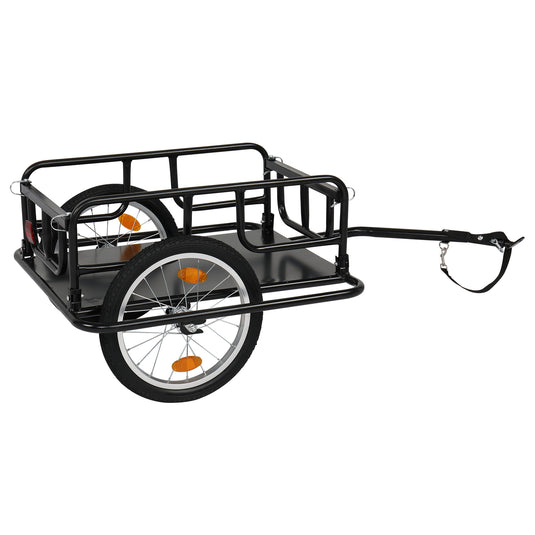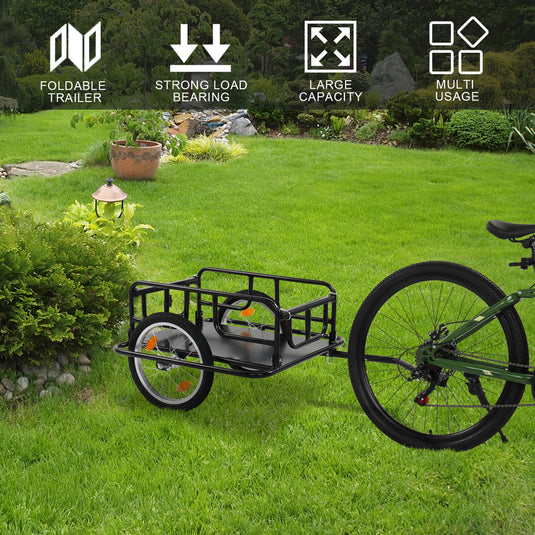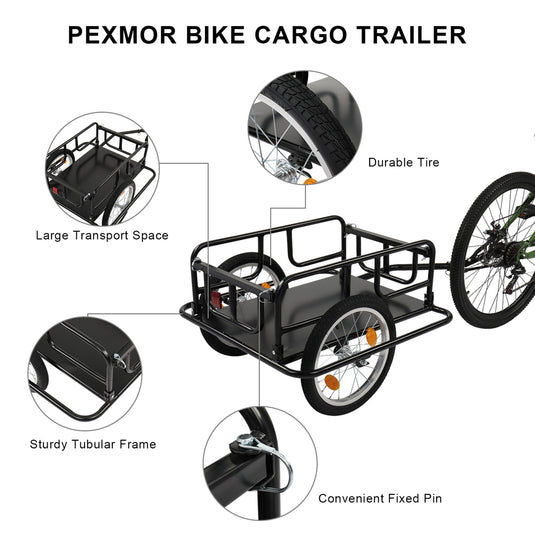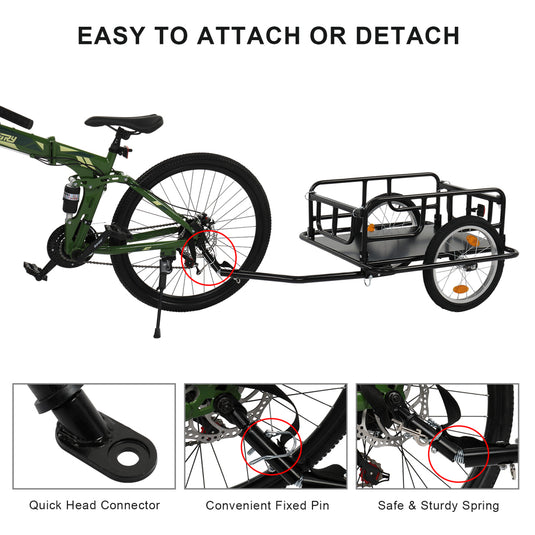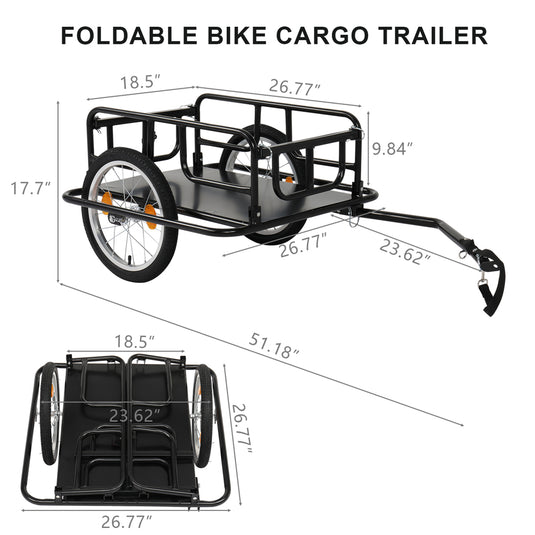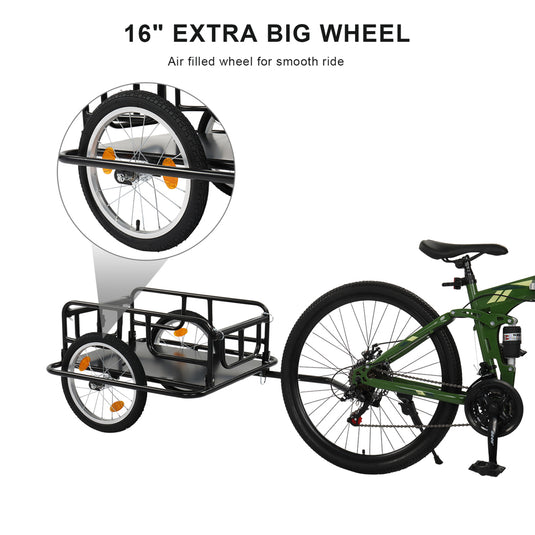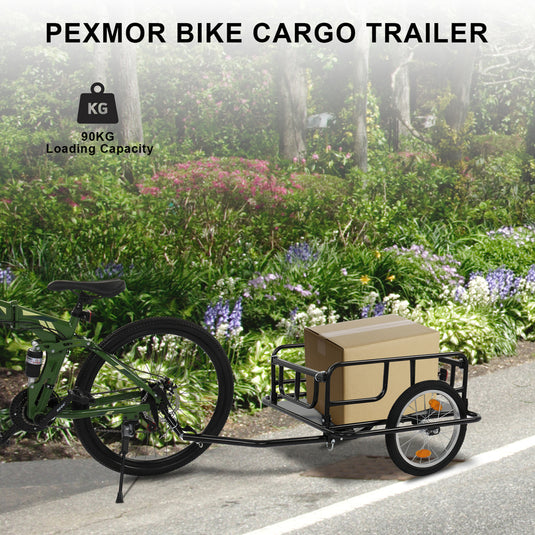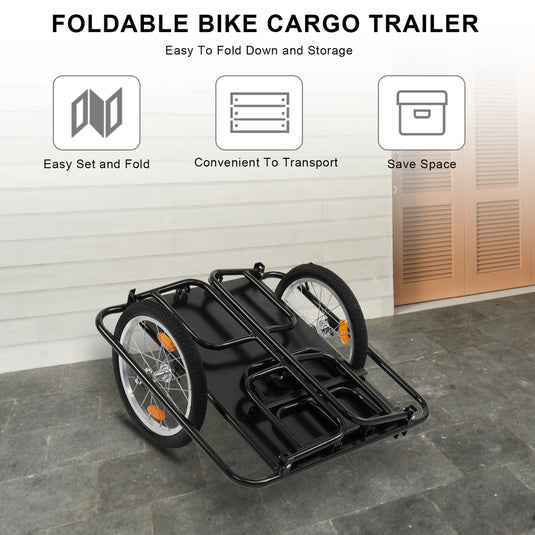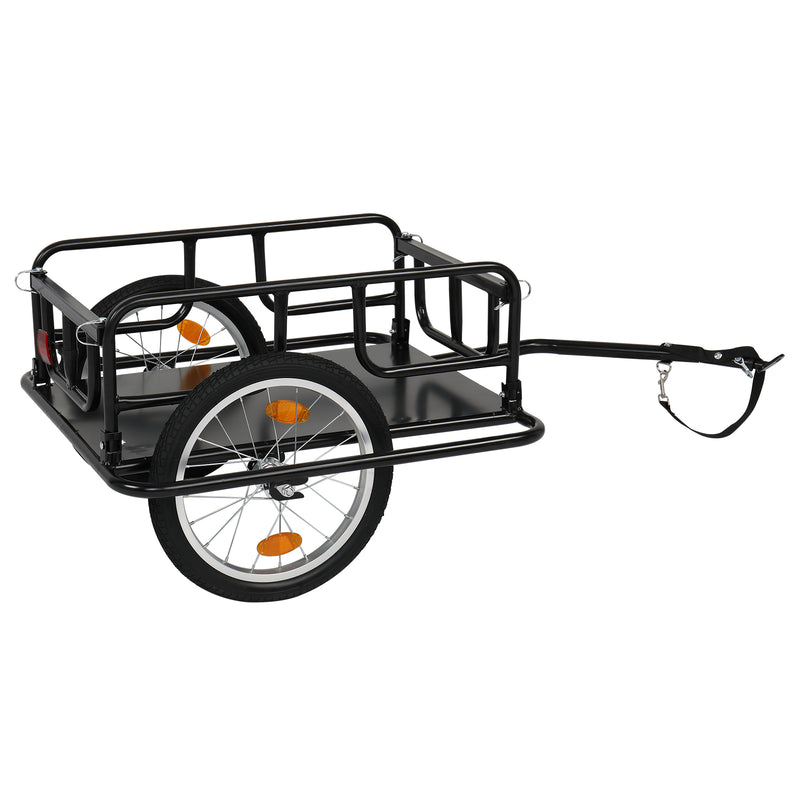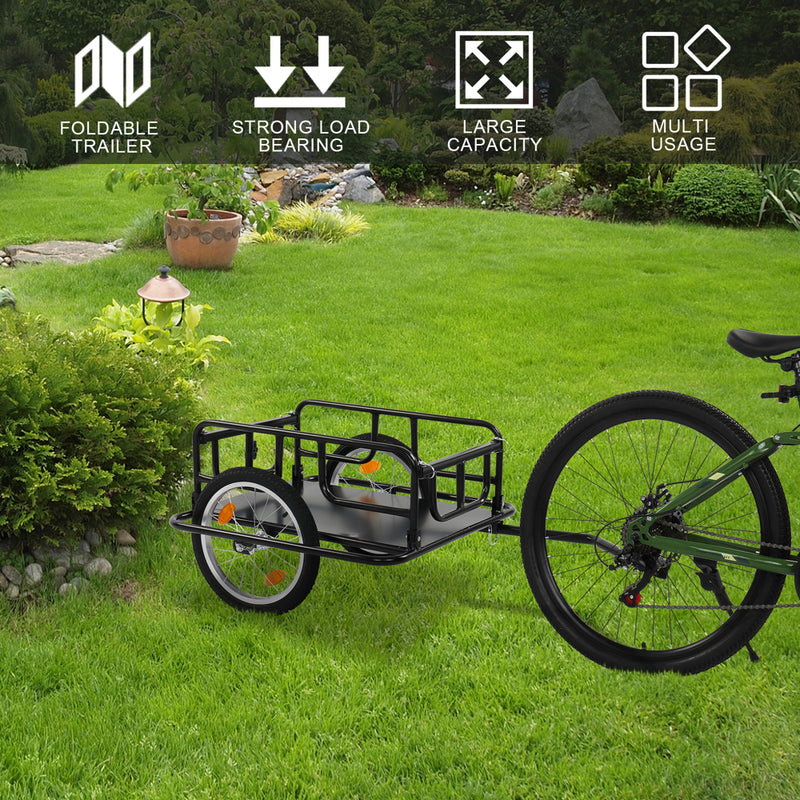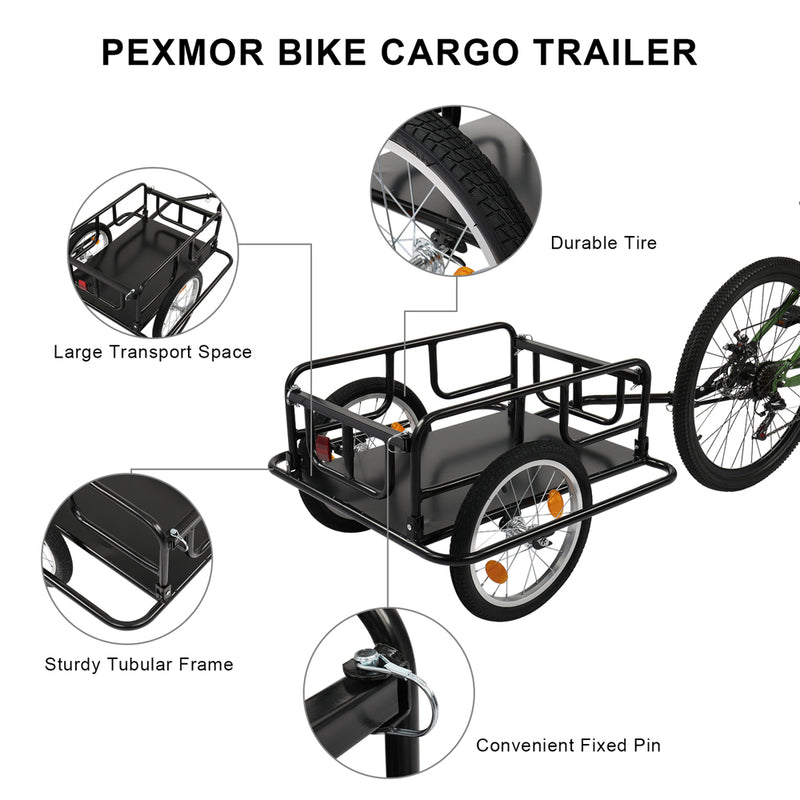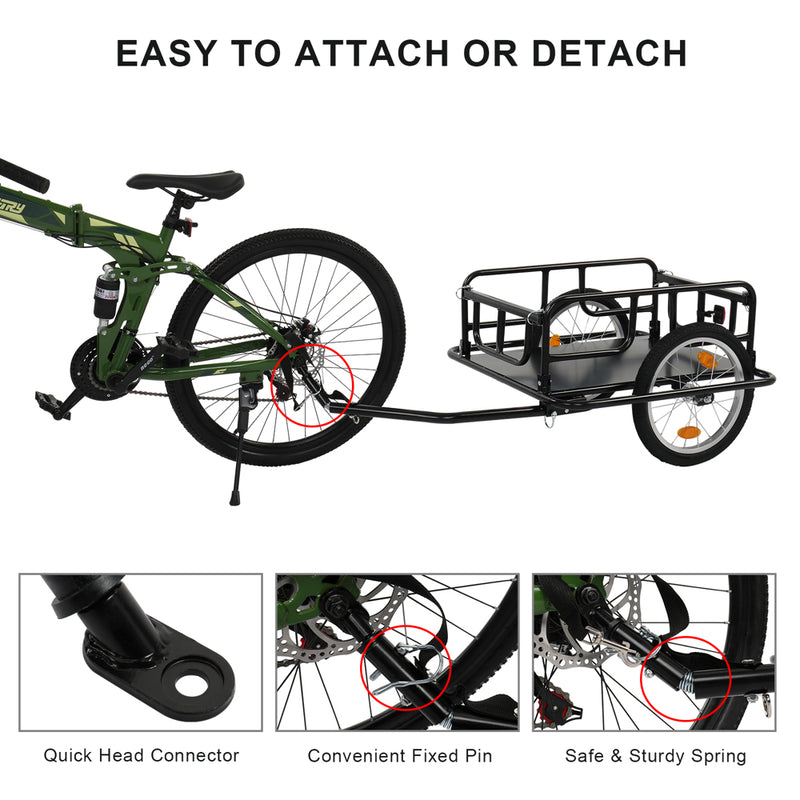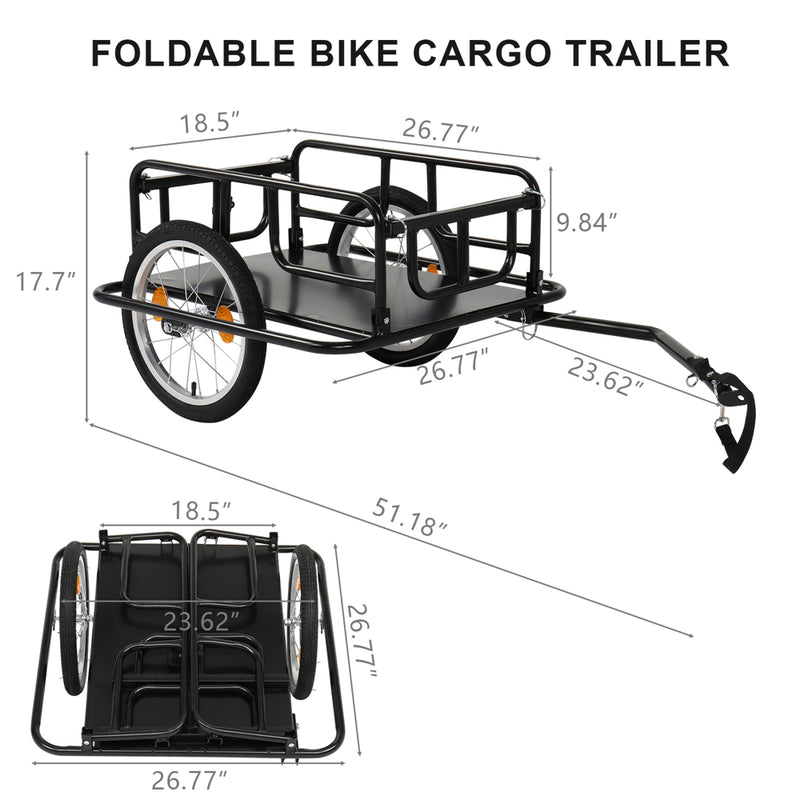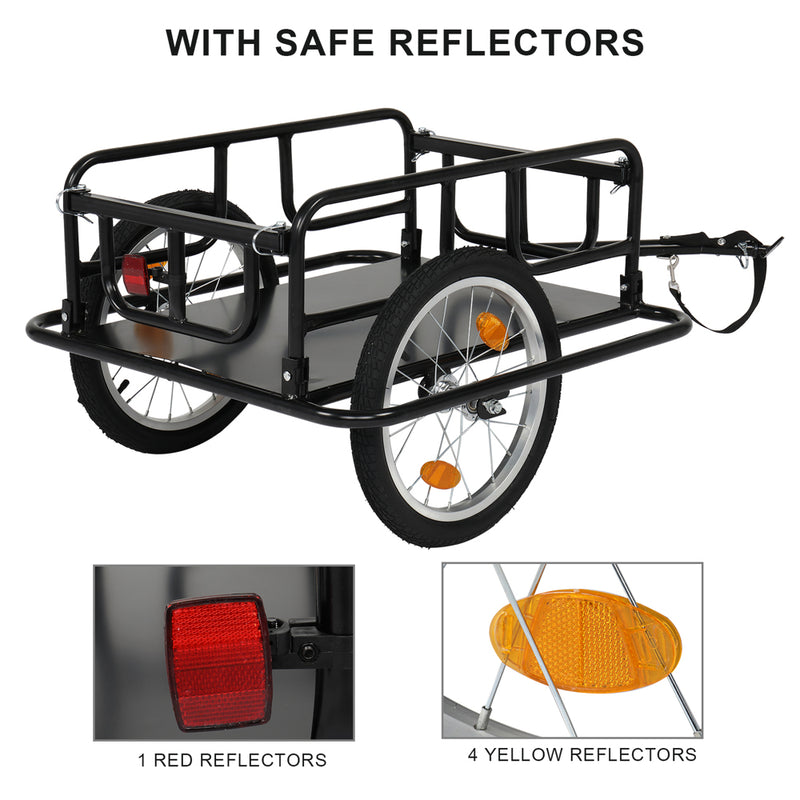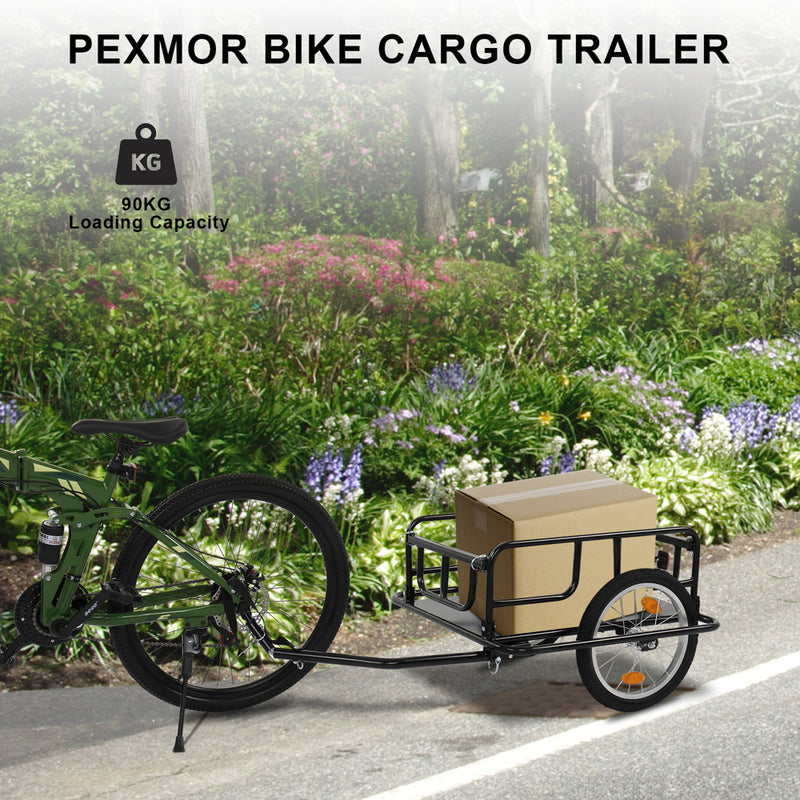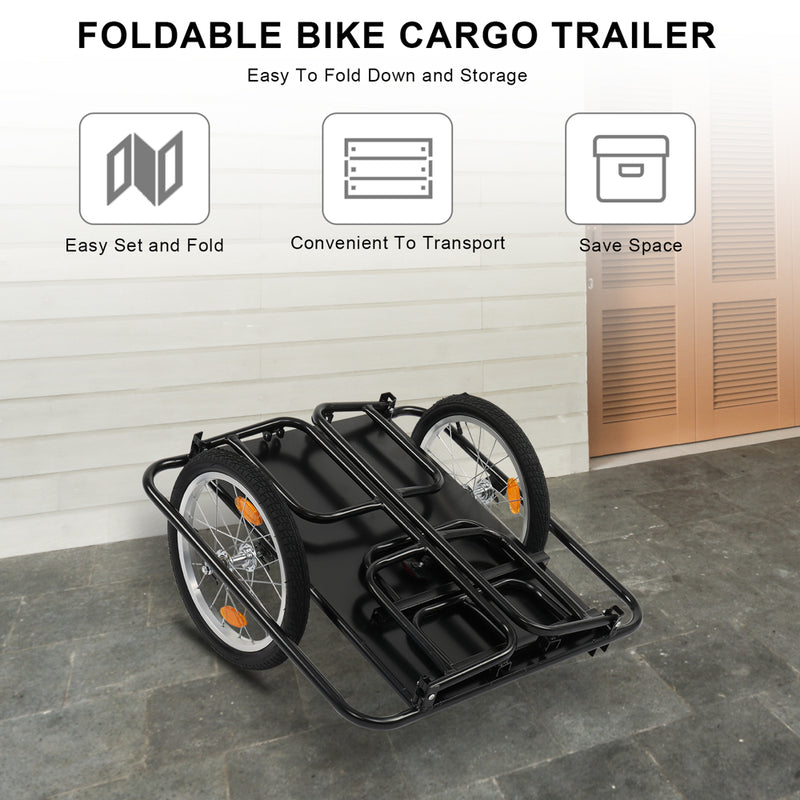 Introductions:

Our bicycle trailer is a good helper for family travel. It is a multi-purpose small trailer, which can be used for shopping, camping, grocery shopping, setting up stalls, moving houses, etc. It can make the handling of large and heavy objects very easy. It uses wheels made of high-quality materials, which can cope with various steps, rough and complex roads. Our trailer has a heavy load and a super heavy load of 90kg, which is a good helper for outgoing consignments. 
Features:
1.【FOLDABLE & EASY TO INSTALL】- Comes with detailed instructions for easy installation and foldable design makes it easy to store and save space.The front and back of the frame can be easily removed, and the side  can be folded down. It provides more space for transporting large objects. 
2.【DURABLE & LARGE CAPACITY】-Steel tube with anti-rust powder coating and reinforced PE bottom build a sturdy and large-capacity transport space.It increased towing and load capacity.
3.【SAFETY DESIGN & DURABLE TIRE】- Comes with a red and 4 yellow reflectors to increase your safety when riding in the dark. Two 16" extra big air filled wheel for smooth ride.It allows you to haul and load items with ease.
4.【UNIVERSAL BIKE HITCH】-The trailer includes a universal hitch can be attached to your bike rear wheels and help you quickly attach or detach the bike to the trailer by plugging and unplugging the pin.
5.【MULTI-PURPOSE TRAILER】- The trailer can be used for shopping, camping, grocery shopping, setting up stalls, moving houses, etc. The large capacity and 90kg super-heavy load allow you to transport many items you need at one time.It is a good helper for out-of-home shipment.
Specifications:
1. Product Size: 130*70.5*50cm
2. Wheels: 16 Inches
3. Weight: 12.3kg
4. Loading Capacity: 90Kg
5. Main Body Material :Steel
6.Wheels Material: Aluminum Alloy
What You Get:
1 x Bicycle Trailer
1 x Manual
Product is Defective- DO NOT BUY!!!
Poor customer service, Incorrect instruction, incorrect assembly, incorrect parts for assembly. "Load a youtube video" "submit pictures" NO REPLY RECEIVED to fix issue!!
Cart Does NOT come as illusrtated
Poor customer service for cart that does not come as illustrated. Completely unable to assemble based on configuration and parts.
Great trailer and seller
Received the trailer and went to assemble with several parts missing, seller made it right and had great communication. Set it up after they sent a new one and trailer works awesome. Definitely recommend this trailer and seller.
That it's not as easily to assemble
Easily maneuverable easy to attach and detach
Excellent purchase for price!
It is an excellent buy for the money. I would have rated it 5 stars if it had that last bolt I needed.