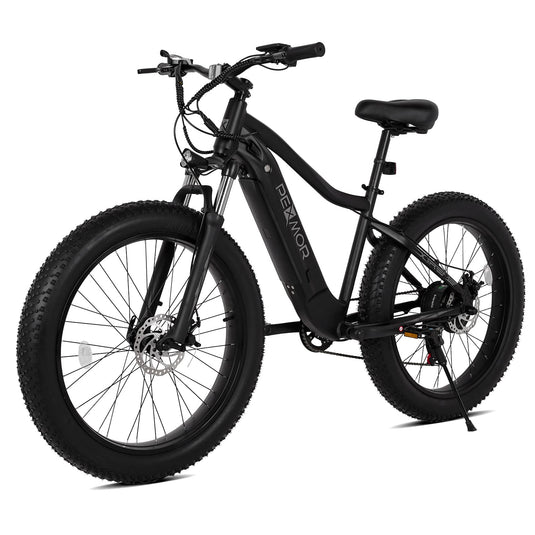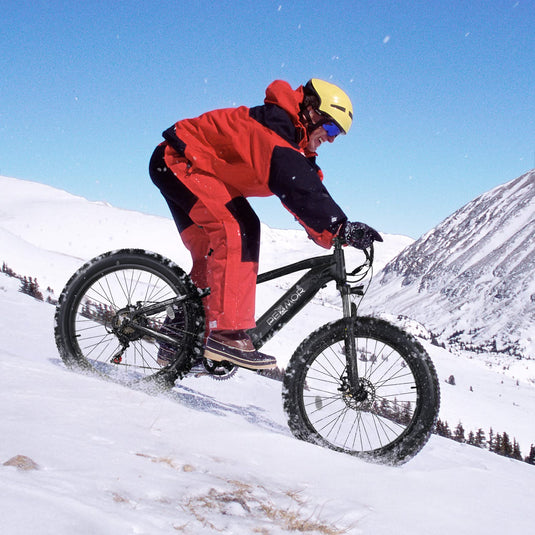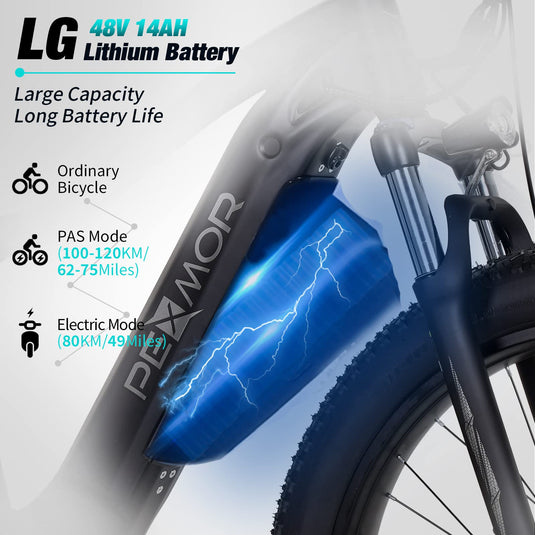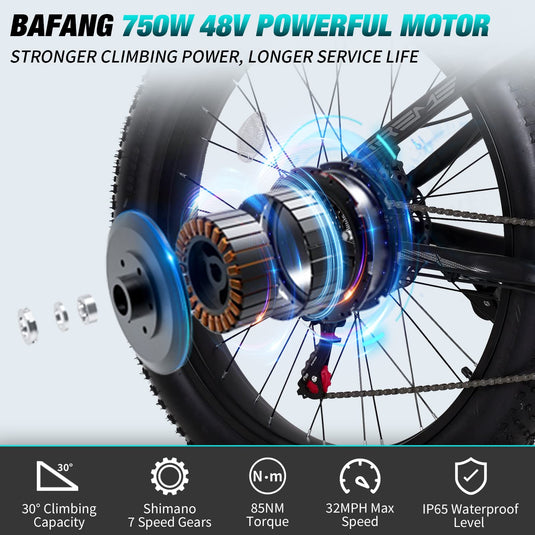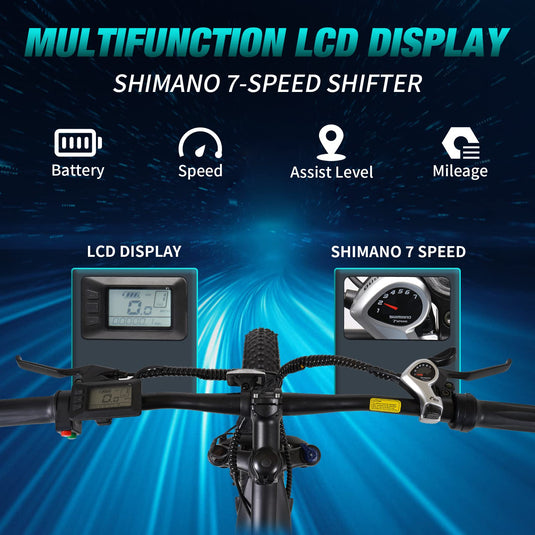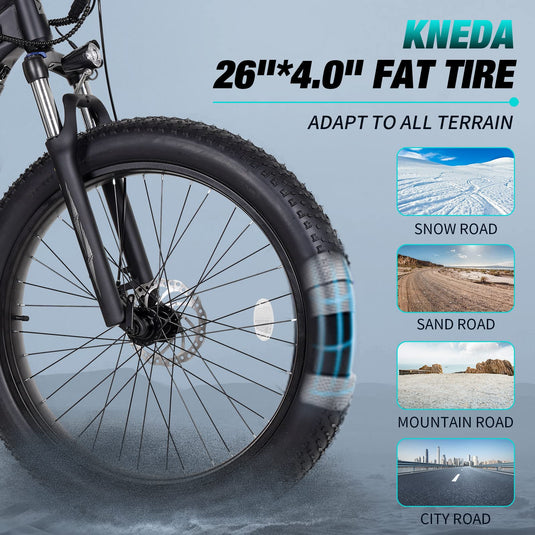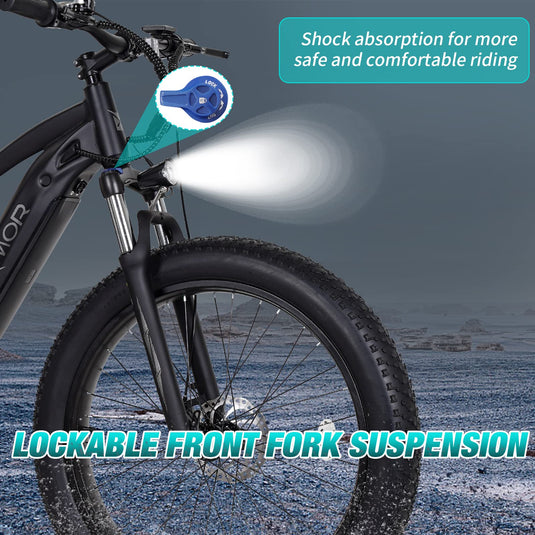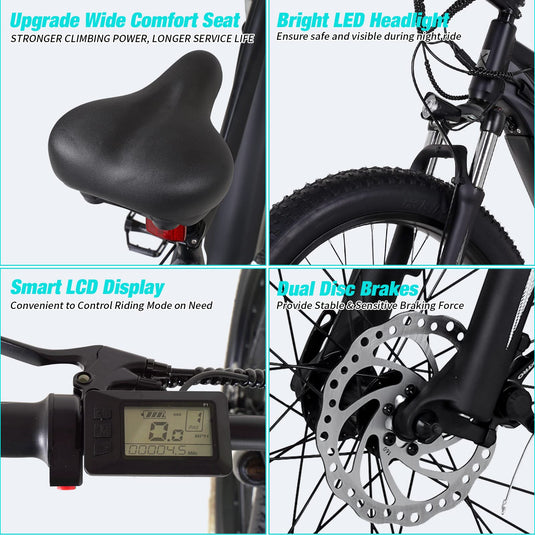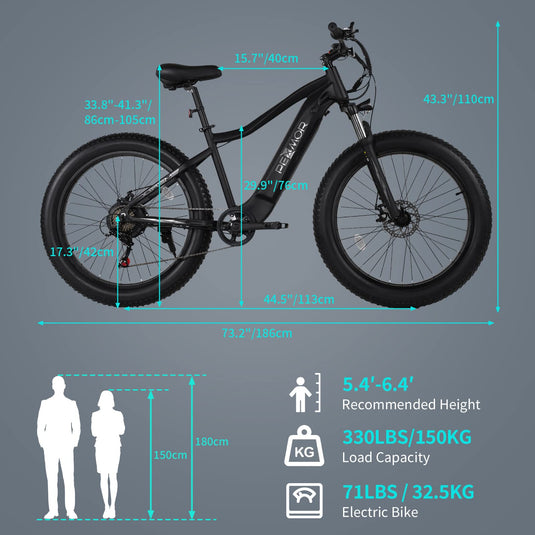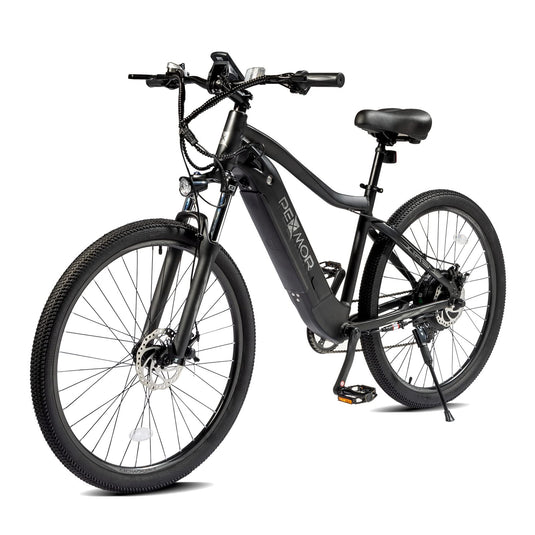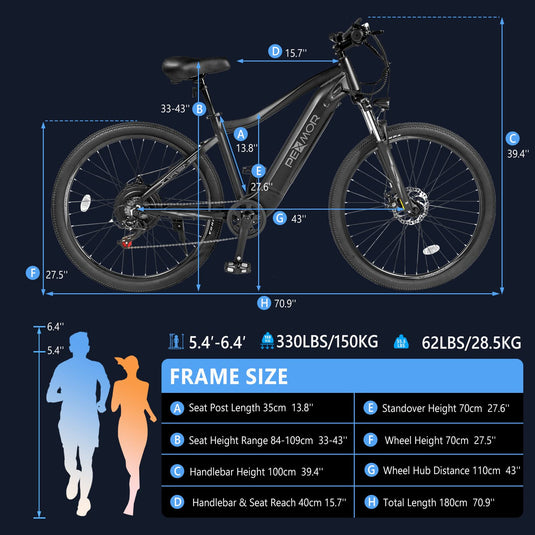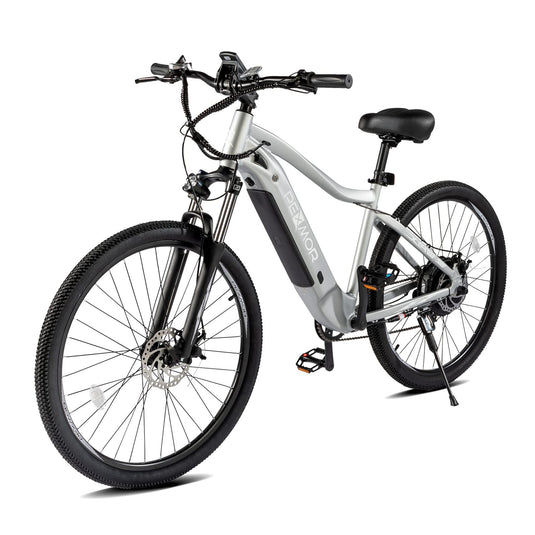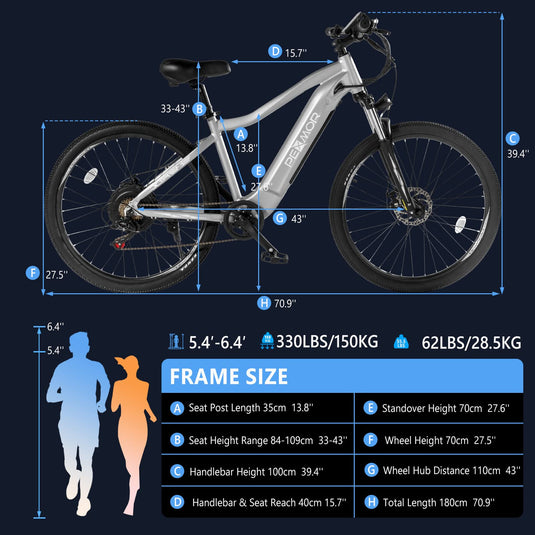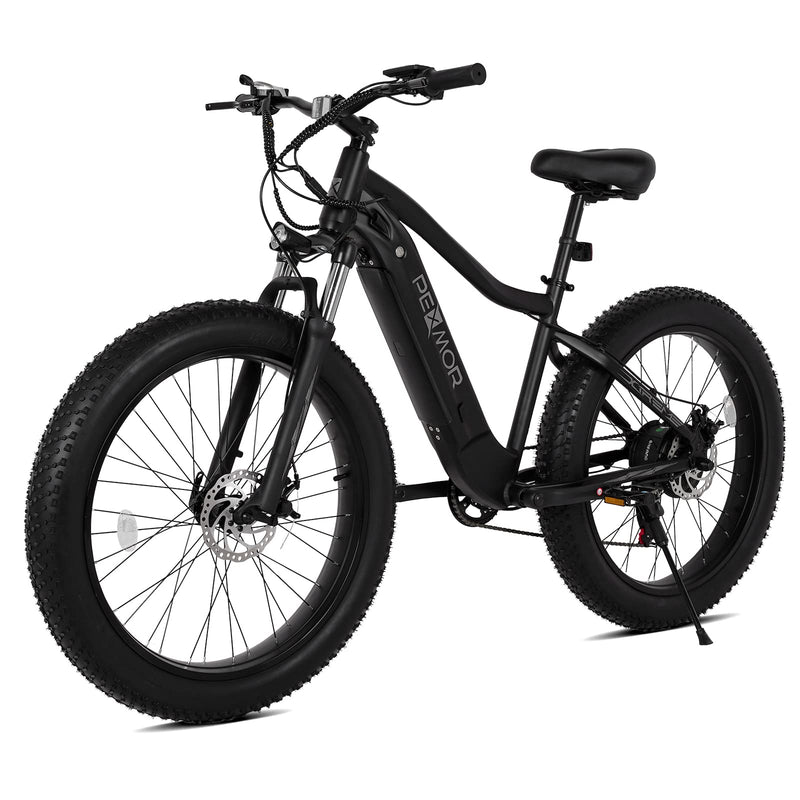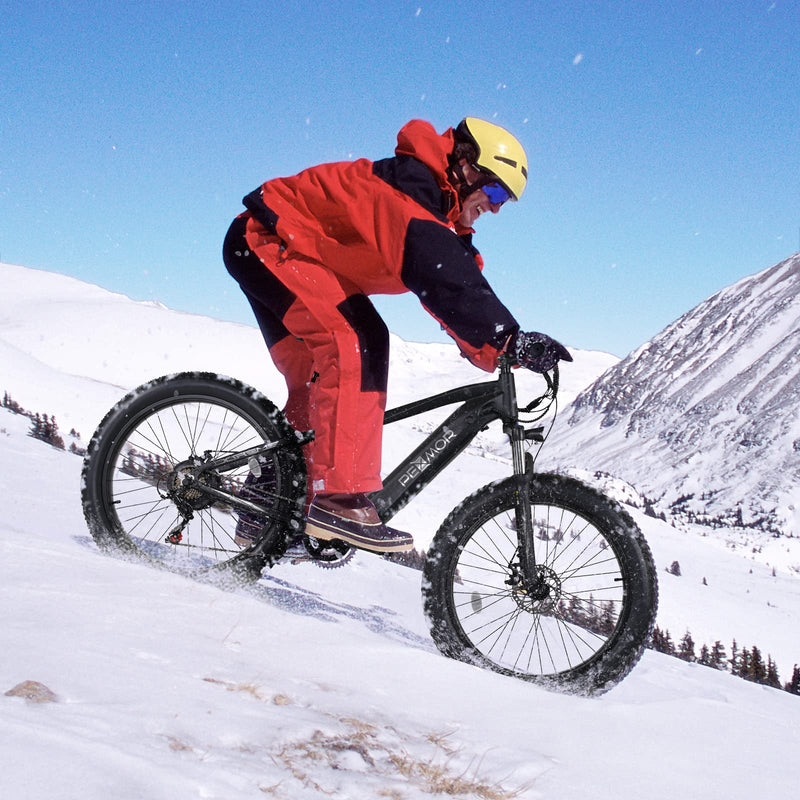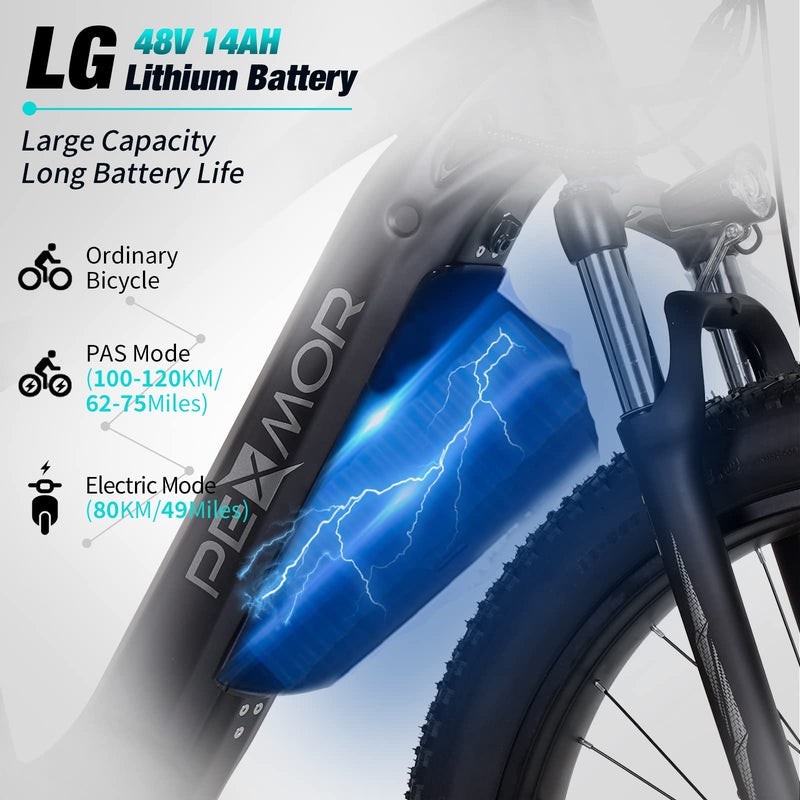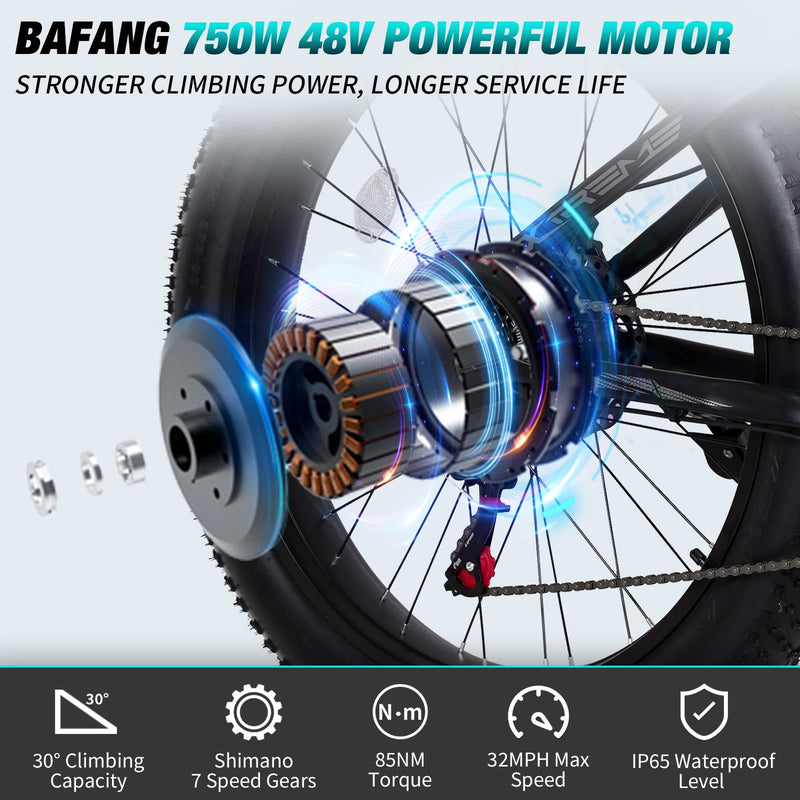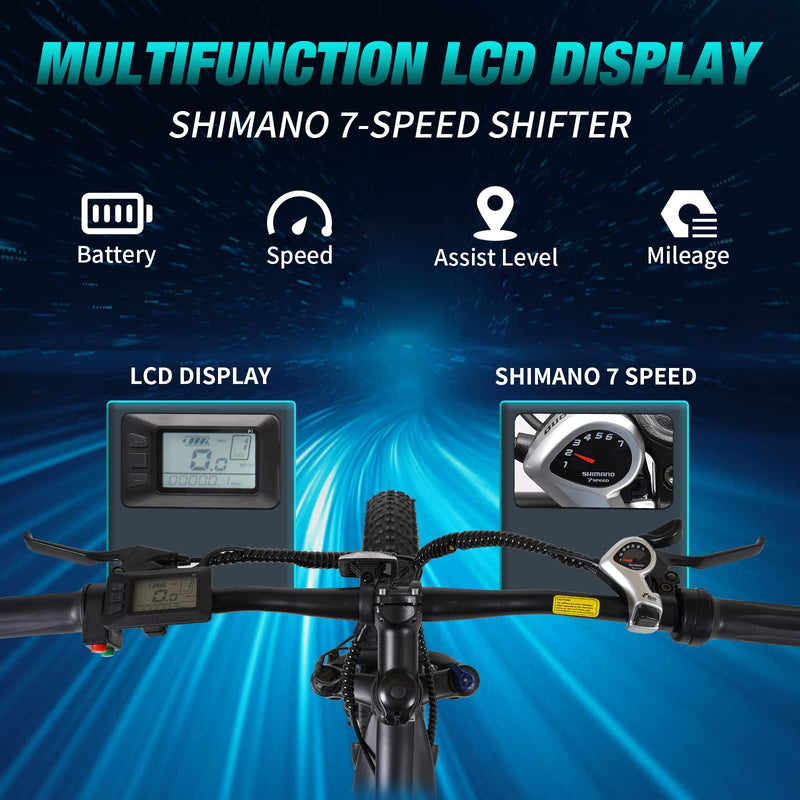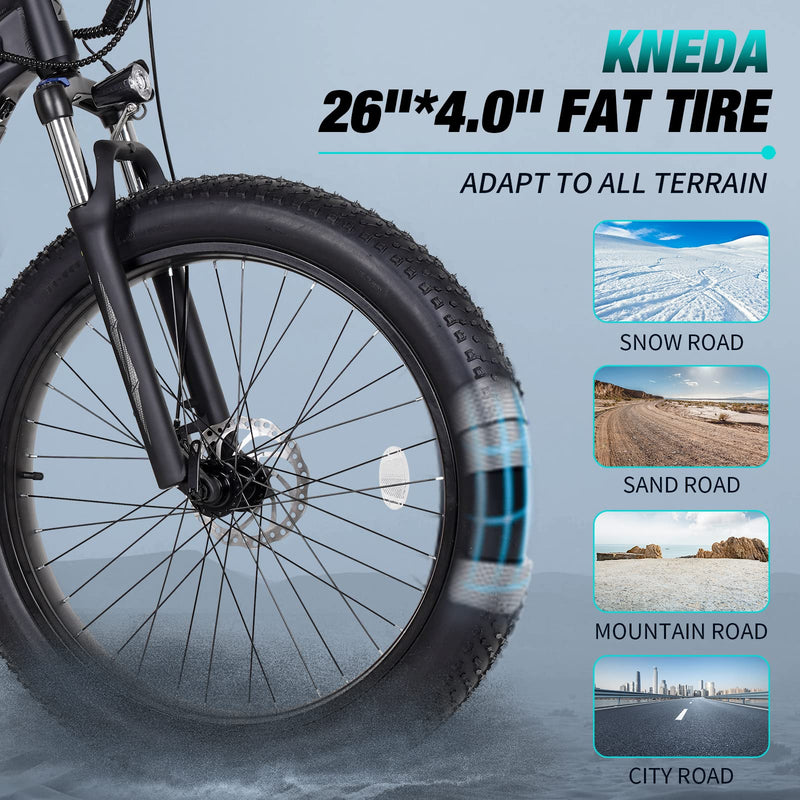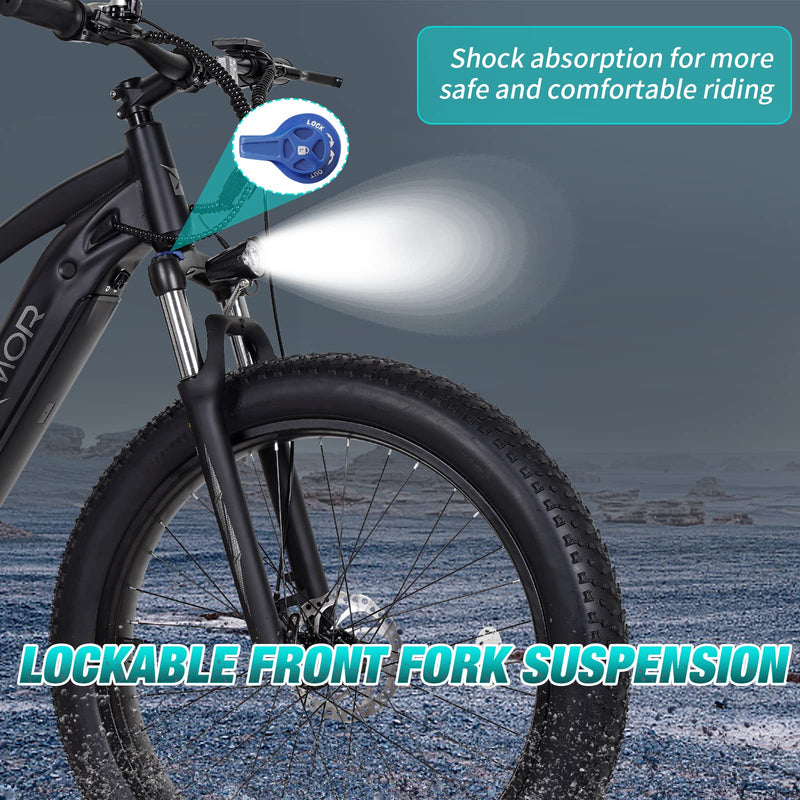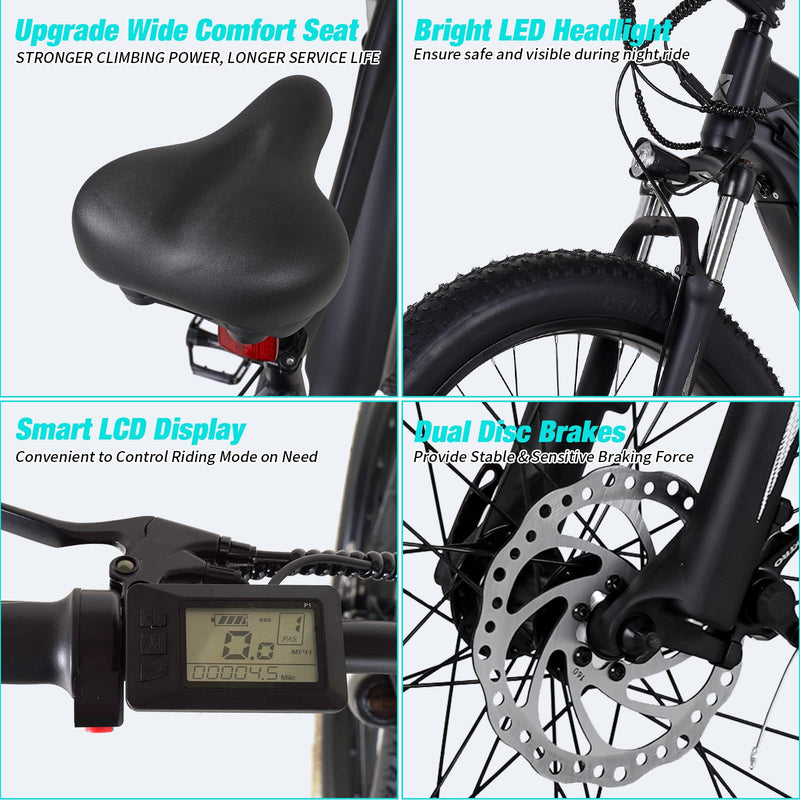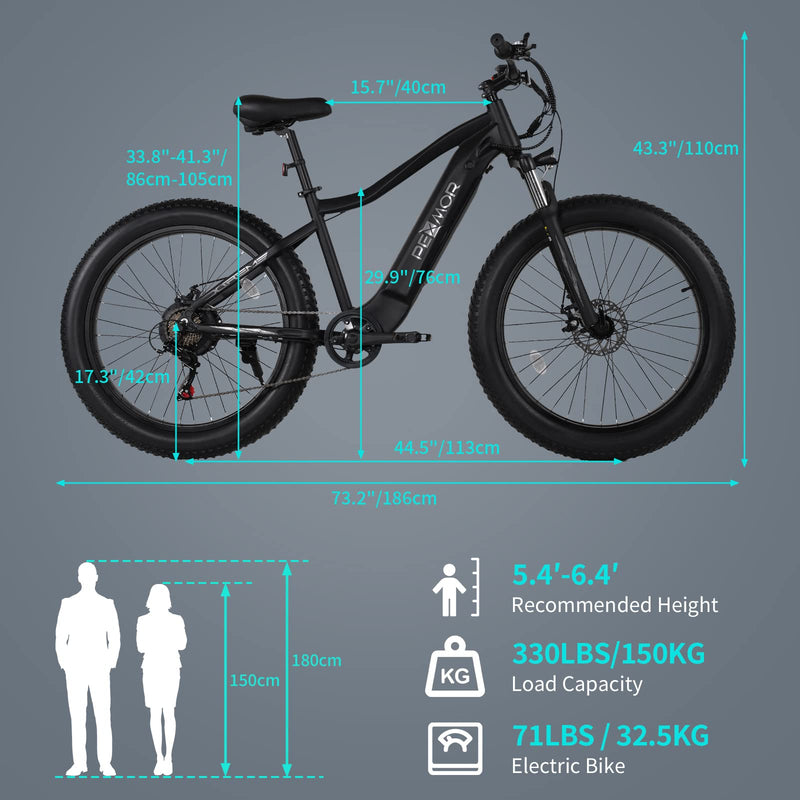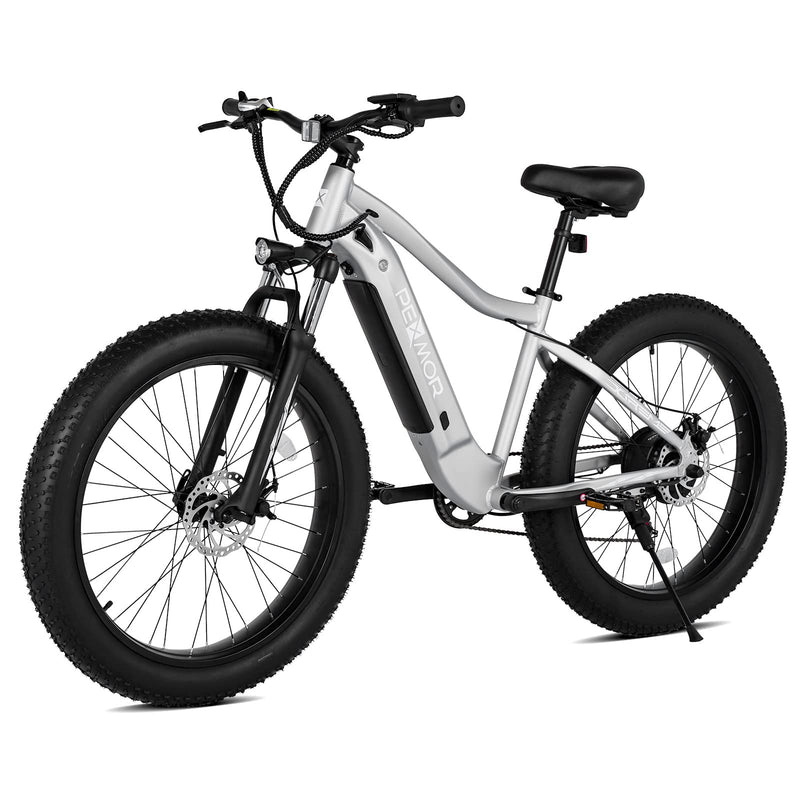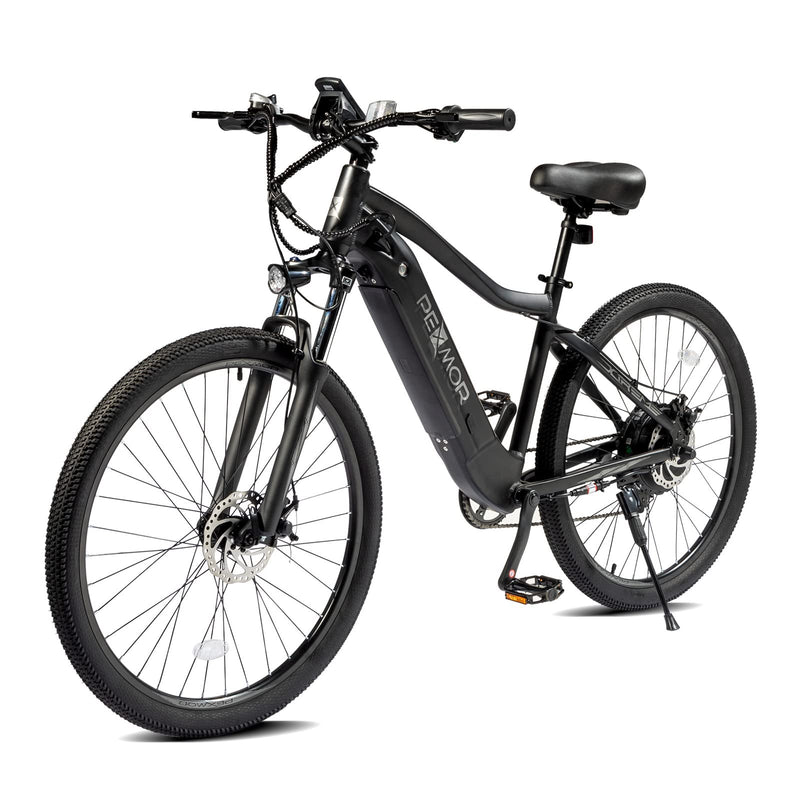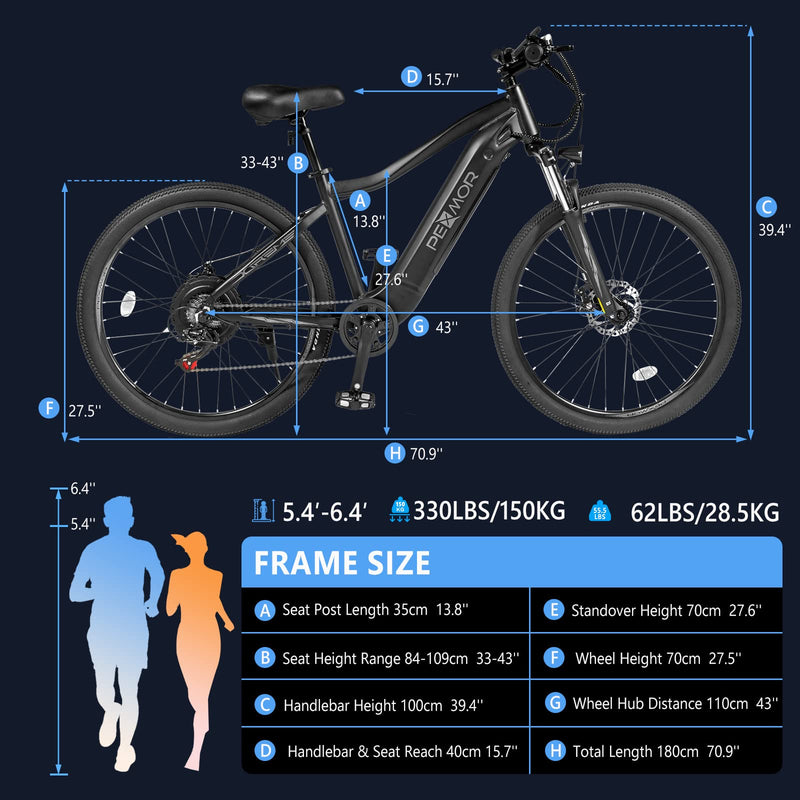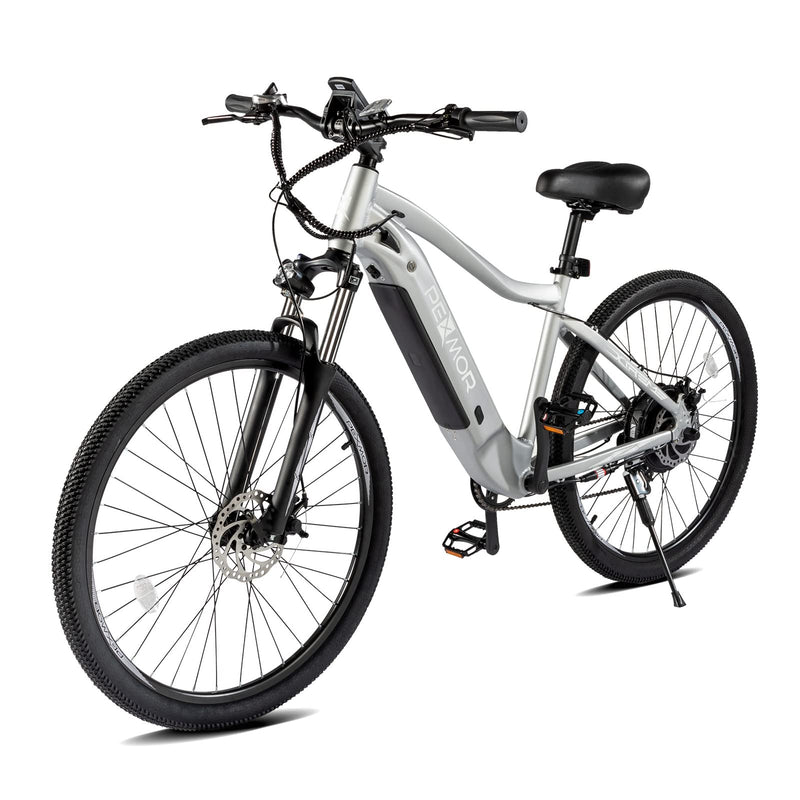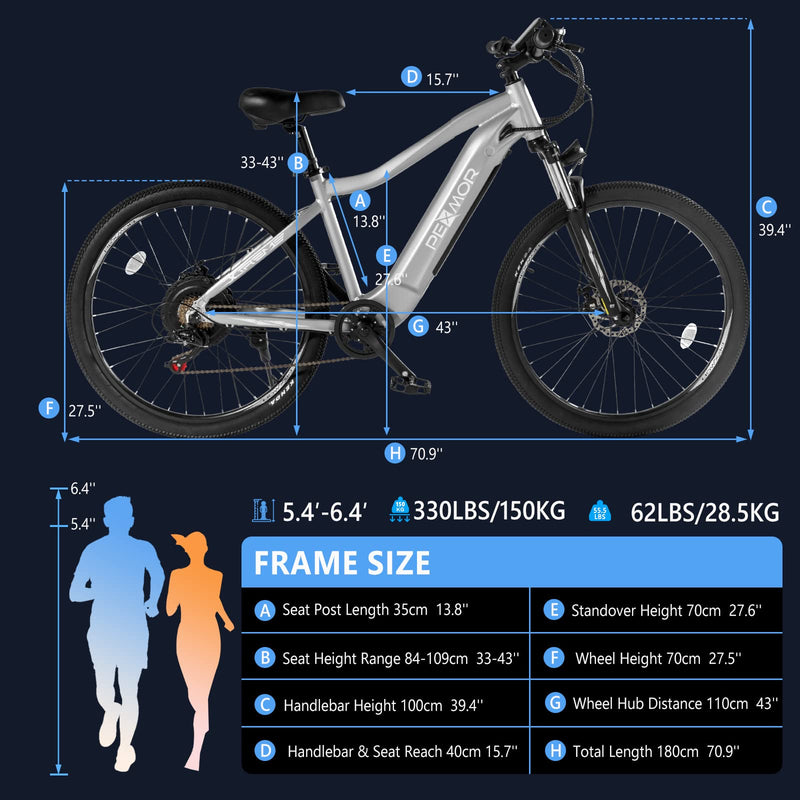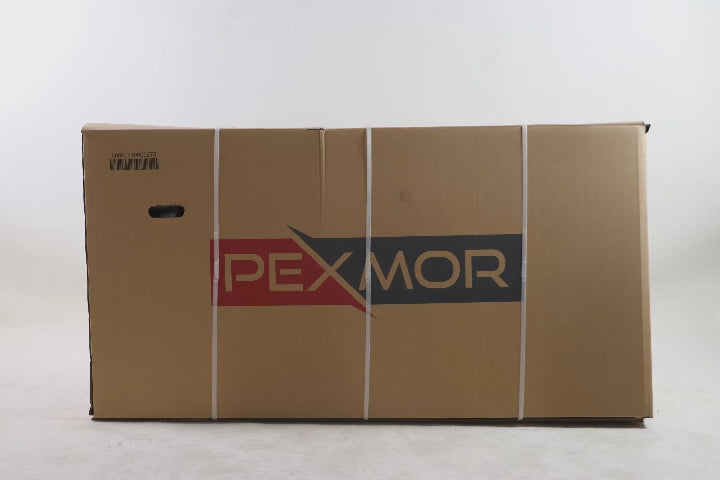 26" = Fat tire(G40000273/G40000271)
27.5"= Skinny tire(G40000272/G40000274)
Features:
1.750W BAFANG MOTOR & LOCKABLE SUSPENSION FORK:Powerful 750W BAFANG Motor provides stronger climbing power, the max speed can reach 32MPH (52KM/H).The lockable front fork suspension can comfortably adapt to various road sections.It can shock absorption for more safe and comfortable riding.
2.LARGE CAPACITY 48V 14AH LG BATTERY:The 48V 14AH large capacity LG battery.There are Ordinary Bicycle, PAS Mode, Electric Mode 3 riding modes.The electric mode can travel 80 KM/49 Miles.The PAS Mode can travel up to 100-120KM/62-75Miles.It can meet your daily commuting and mountain cruising needs. 
3.SHIMANO 7-SPEED GEAR & DUAL DISC BRAKES:The professional Shimano 7-speed gear finger shifters convenient to ride uphill, downhill or pure acceleration. The front and rear dual disc brakes provide gstable and strong braking force.It ensure the safety of your riding.
4.DURABLE FAT TIRE & LCD DISPLAY:The 26"*4.0" fat tire is non-slip and wear-resistant.It has strong grip and puncture resistance to ensure safe driving.The max load capacity is 330LBS/150KG.Smart LCD display can convenient to control or display battery power,speed,mileage and assist level.
5.EASY TO INSTALL & CONSIDERATE SERVICES:The bicycle arrives 85% assembled. With detailed instructions and installation tools, you can easily complete the installation.We will provide half or 1 year warranty for different bicycle parts. If there is damage or failure with bike, pls find us by your order and send us the relevant photos and videos of the problem

What you get:
26inch 48V Electric Bike 

Bad customer service and thiefs
Becareful with this company if something goes wrong they won't help you , instead they will just ingore you , my last review I ment to give 1 star , I bought a bike and the battery didn't work and now there just ingoren me so pretty much they stole my money ... don't trust at all..
Bad customer service and thiefs
So I got my bike charged it over night , the next day went to go ride it and battery wasn't working got a e06 code. Wrote to customer service 1st they said for me too check the settings which I did and still a e06 error , now there ingoren me for over a week trying not to give me a replacement battery, I am a disabled man trying to get back and forth to work and these people took my money and won't even send me a return label .. becareful with this company people you will not get any help if something goes wrong..
Display panel
I need a new display panel for my e-bike and can't get a hold of the company directly to order a new one.